It was my pleasure to assist in producing these great technical sessions.
Great job to Roger Hobbs and Tommy Hodges at ComponentOne on editing and filming these episodes!
Russ Cam® Unplugged: Xamarin Real World Experiences with MVP Bill Reiss who shares some Xamarin real world experiences.
ComponentOne Unplugged: Getting Started with MVC 5 and Visual Studio 2013 with Thom Robbins in front of a packed house, shows MVC5 and Visual Studio 2014. Check out the full session.

Russ Cam® Unplugged: Rock Your Code with Visual Add-ins MVP David McCarter, a ComponentOne Influencer, shares his experience with add-ins for coding, debugging, profiling and more! So let's check out that session right now as Russ Cam Unplugged presents Rock Your Code with Visual Add-Ins by David McCarter.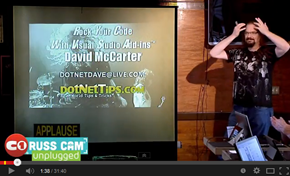 Russ Cam® Unplugged: App Studio, Then What? MVP Russ Fustino, ComponentOne Influencer, shows how easy and quick it is to make a Windows Phone app using App Studio!